What is perfection? It is very likely that most women would reply with: "Skinny waist, big breasts, long legs, shiny long hair, clear skin, blah blah blah". The list could go on forever. You can't blame women for having this ideal image of perfection because it is forced down our throats everywhere we go, look, and turn.
There is one main thing to blame this on: the media. Research shows that appearance satisfaction and self-esteem are strongly correlated. It's no wonder why women feel horrible about themselves; the media makes it seem as though perfection is achievable.
It's one thing if a women daily does her make up, primps her hair, and picks out a fashionable outfit to enhance her looks, but it's another thing when she decides to go further with procedures such as plastic surgery and botox. Studies have also shown that when a women feels that she is good looking, her self-esteem is through the roof. But on the other hand, if a women is unsatisfied with her appearance, she will constantly feel horribly about herself. Of course, self-esteem starts with underlying psychological issues, but the media reinforces these thoughts that women have to be perfect in order to have a successful, happy life.
Approximately 2,000,000 Americans undergo some type of surgical procedure each year in order to enhance their looks. Obviously something is wrong with this picture. We think that cosmetic surgery is okay because the media makes it seem to be okay. Many celebrities such as Jwoww, Ashley Tisdale, Victoria Beckham, and Heidi Montag have all had procedures done. These celebrities range from Disney Channel to MTV to reality TV; it's everywhere. An estimated 33-65,000 children (under the age of 18) have a procedure done annually. The pure fact that even children are feeling this need for perfection is sickening.
Here is a before and after picture of Heidi Montag, as if she wasn't already beautiful before, right? Heidi had 10 surgeries all at once (listed on the picture). This goes to show that women are becoming obsessed with the idea of "perfection".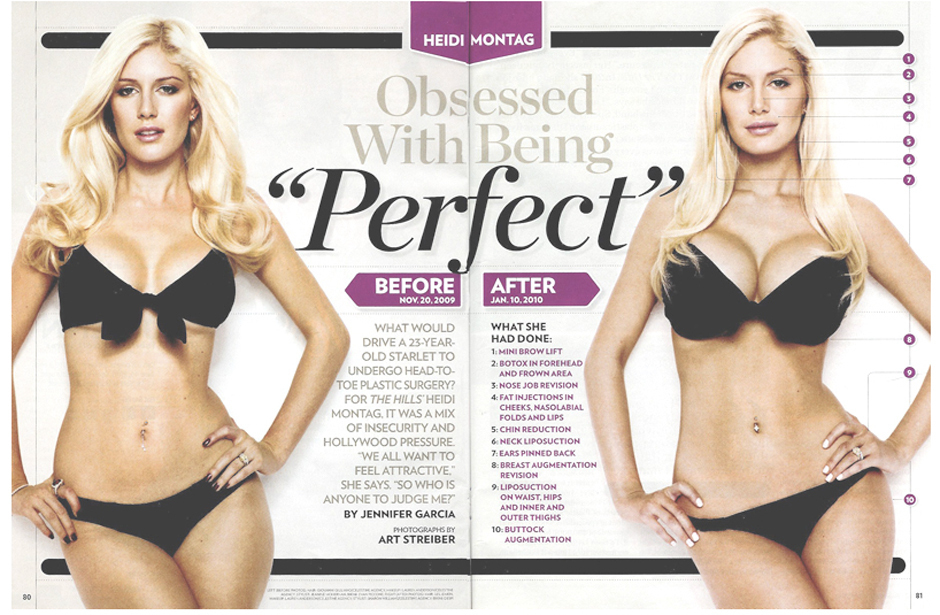 Other types of media such as the runway, billboards, and magazines are just as guilty as television stars. We all know how bone-skinny runway models are forced to be. I don't think i have to go into how this negatively impacts a women's mind. That's self explanatory. Something not as obvious is the amount of work that goes into each photo that shows up in magazines and on billboards.
This short video
blew my mind when I first saw it. The model before the makeup and photoshop doesn't look like a model at all; she looks like an average person, but by looking at the final picture there is absolutely no way of knowing that. This is the prime reason why women are so harsh on themselves. Advertisements are pretty much lying to our faces. The women that we all look up to and praise for their beauty are not even capable of looking that way without hours upon hours of professional digital enhancement and makeup artists. Beauty does not have to be a perfect figure and flawless face no matter how much the media tries to persuade us of this.
Remember: you are beautiful just the way you are :)
Bibliography:
Dumenco, S. (2006). Reality bytes: Welcome to our photoshopped future. Advertising Age, (77.39), 28.
İnceoğlu, Y., & Kar, A. (2009). New Beauty Icons: Freedom or Conviction to the Human Body. Ileti-S-Im, (10), 7-31.
Abraham, A., Zuckerman, D., (2011). Adolescents, Celebrity Worship, and Cosmetic Surgery. Journal of Adolescent Health, (45), 453-454.