I called my mom the day after the VMAs this year. She commented on Miley Cyrus's performance by saying, "this is the dumbing-down of America." She's said this countless times before, but when the Eberly Dean, Daniel Larson, started talking about the fact that the Earth revolves around the sun, it really got me thinking. I mean, there's a lot of oblivious people on the planet, right? So, I decided to investigate how many American's aren't very good with common knowledge.
In a study conducted by
gallup.com
, a group of citizens were asked to participate in a pop quiz of sorts. The first question asked what historical event was celebrated on July 4th. About 85% of people in the study answered correctly. Now, 85% doesn't sound awful. But think about it...we're talking about a MAJOR national holiday, and nearly 1 in 5 Americans don't know what it is? The next question asked what country The United States gained its independence from. Only 76% answered England/Great Britain/the United Kingdom. Really? That's
one in four
Americans that don't know their own heritage. And, relating back to what Dr. Larson said, only 79% of people surveyed knew that the Earth revolved around the Sun. This is staggering to me. I tried to think of what this could be attributed to. Obviously, chance is always an explanation. But the thought that even ONE person thinks the Sun revolves around the Earth is hard to believe...let alone 21%. So what else could it be? I went back to Google.
According to
The Huffington Post
, we have lost nearly 14 IQ points, on average, since the Victorian Era (1830s - 1900). Shouldn't we be getting smarter? With all the easy and fast access to technology, news, and facts? Some scientists claim this is due to the fact that there is a correlation between women with a higher IQ and having fewer offsprings. Meaning, since IQ is partially genetic, the pool of "smart" people is getting smaller and smaller.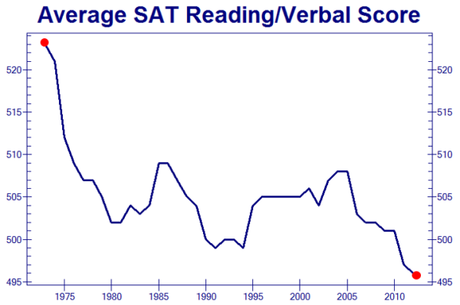 This article also mentioned the Flynn effect, which if you remember Andrew telling us, means that the child is smarter than the parent, the parent is smarter than the grandparent, etc. So which one is it, an increase or a decrease? Unfortunately, the article didn't give a definitive answer. Personally, I think there is stronger evidence for a decrease than an increase. I mean,
hello,
there are people who don't know what the Fourth of July is...seems like a pretty strong sign of a decrease to me.