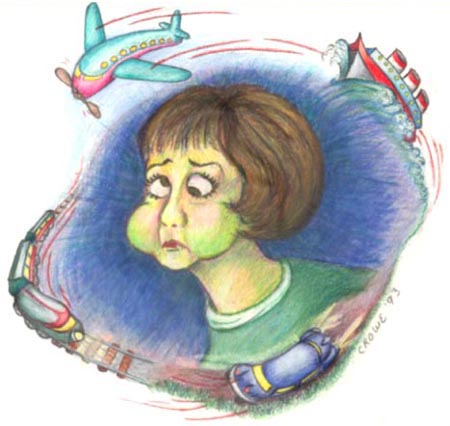 This weekend coming home from canning we were talking about car sickness. My one friend wanted to sit in the front because she says it helps keep her from getting sick. This got me thinking what is motion sickness? I never got it when I was younger but now that I have grown up I cannot read or look down in the car without feeling nauseous.
According to Dr. Gupta in an interview with CNN, motion sickness is "Basically, everything in your body, all your senses are activating at the same time. If there is some sort of mismatch between your senses, say your eyes are telling you that you're moving -- or not -- and your ears are telling you [the opposite] and for some reason they're not connecting, you start to get what's called disequilibrium, or motion sickness. And it's the body's response of telling you 'something is not quite right here.'"
He says that the part of the disconnect that most likely makes you sick is the inner ear because you have bones in the inner ear and fluid-filled canals that detect your motion and are constantly giving you feedback right to your brain stem about what your position in space is.
My friend was right in saying that sitting in the passenger seat makes her feel better because according to Gupta, you are able to look at those things moving around you, you have much more window space, you're able to have a sense of what the driver's doing. So if the driver's hitting the brakes, you see that happening and it matches up with your inner ear. On the opposite side, if you're sitting in the backseat and all of the sudden the driver hits the brakes, you get that queasy feeling in your stomach because your brain wasn't expecting that. Your inner ear is telling you that they hit the brakes, you know that it's happening, you may even clutch the hand rest and stuff, but it takes a second for your eyes to catch up. This whole process can make you motion sick.
Gupta says that some people are more likely to get motion sickness than others. It is more likely for people with an inner ear problem, people with difficulty of vision, diabetics, and some studies show that it is hereditary.
Gupta gets motion sickness a lot and states, "I think if the symptoms have already started, then a lot of times I'll try to lie down and close my eyes, basically taking away one of the sensory stimuli, the vision. But you get a lot of starting and stopping and that can make it a lot worse...I don't get sick when I drive. All your senses are firing on the same level when you're driving the car. I open the windows, even in the colder weather to get some fresh air. That seems to help. Sometimes I will eat something that's calming on my stomach beforehand so I at least don't get the nausea associated with it."
To avoid getting car sick here are some tips to try: keep your head up as much as possible, point out the beautiful scenery outside because it's moving with you, get as much fresh air as much as possible, try to eat blander/drier foods not any particularly spicy foods and soda water, heat tends to worsen the symptoms, so if it's too hot to have the windows open try and run your air a little bit.
For more information about this topic visit the article that I used by
CNN Health
.